Introduction
Becoming a member of Engineers Australia is a significant milestone for engineering professionals, and it opens doors to numerous opportunities within the field. However, not all engineering qualifications automatically meet the membership requirements. If your qualifications do not align with the recognized standards, you will need to undergo a competency assessment, often referred to as an entry to practice assessment. In this article, we will explore what this assessment involves and how to navigate the process successfully.
When Do You Need a Competency Assessment?
There are several scenarios in which you may require a competency assessment by Engineers Australia: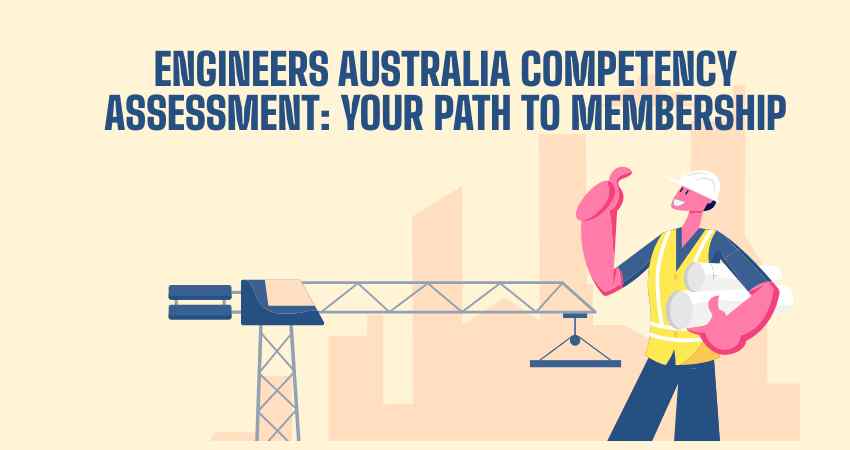 Unaccredited Australian Qualifications: If your engineering qualifications were obtained in Australia but are not accredited or recognized by Engineers Australia, you will need an assessment.
Overseas Qualifications: If you hold engineering qualifications from overseas, and they are not recognized by Engineers Australia, you will also need to go through the assessment process.
Related Fields with Postgraduate Engineering Qualifications: In some cases, you might have qualifications in fields related to engineering that are not recognized by Engineers Australia. However, if you possess postgraduate engineering qualifications and substantial engineering experience, you may still be eligible for assessment.
What Does the Assessment Involve?
The competency assessment is designed to evaluate your skills and qualifications comprehensively. Engineers Australia assesses your competence in three key areas:
Knowledge Base: This assesses whether you have the appropriate foundational engineering knowledge.
Engineering Ability: This evaluates your ability to apply your knowledge to solve problems and handle situations within your specific occupational category.
Professional Attributes: Engineers are expected to exhibit certain professional attributes, and this aspect of the assessment examines whether you meet these criteria.
How to Apply
To initiate the competency assessment process, you'll need to follow these steps:
Create an Account: Start by creating an account in the Engineers Australia member portal.
Gather Documentation: Collect the required documentation in a format that can be uploaded with your assessment application. This includes a color-scanned copy of a primary piece of identification (passport, driver's license, or birth certificate), a passport-sized photograph, evidence of English language competence (if needed), copies of all your qualifications (including degree certificates and academic transcripts), and the assessment requirements detailed below.
Assessment Requirements: Prepare the following documentation:
CV or Resume: Provide a current CV or resume that covers your engineering employment history from your undergraduate studies to the present. Ensure it is no more than three pages long and includes details of any industry placements completed during your studies.
Career Episodes: You must provide written accounts of three career episodes that highlight your engineering experiences. Additionally, include a summary statement that ties these episodes together.
Assessment Outcome
Once you've submitted your assessment, qualified Engineers Australia assessors will review your application. The assessment typically takes about four weeks, although it may occasionally take longer. You will be notified through your portal account when the assessment is completed.
If you pass the assessment, you can proceed to apply for Engineers Australia membership directly through your portal account. In case you do not pass, you have the option to request a review within three months or file an appeal within six months, both of which involve additional fees.
Fees
The fee for an entry to practice competency assessment is $810. It's important to note that you will also need to pay an additional fee for membership when you apply successfully.
Conclusion
The competency assessment process is a crucial step for individuals whose engineering qualifications do not directly meet the requirements for Engineers Australia membership. By following the outlined steps and submitting the necessary documentation, you can work toward achieving recognition for your engineering skills and experience, ultimately gaining access to the benefits of Engineers Australia membership.